How a financial company succeeded with 360digitalz's social media marketing services
The advisory firm wanted to build a community for its clients, target those who'd be most interested in using their products and services, and tell the story of the brand. They wanted an online solution to acquire new clients at a higher rate than before, by better engaging target groups about their solutions.
Growing a social community in a highly-regulated, niche market
The Solution
They chose a custom "Maximize Results" package from 360digitalz Internet Marketing Agency, which included organic content posting and paid advertising efforts. The package also included regular strategy recommendations, inbound engagement monitoring, as well as monthly analytics reporting.
The Strategy
A social media specialist at 360digitalz Internet Marketing Agency helped the advisory firm create five industry-specific posts (per week) on each of the following channels: Instagram, Twitter, LinkedIn and Facebook. These posts were a combination of both branded and 3rd party content, following a varied, planned content calendar.
Along with this regular organic posting, 360digitalz developed and managed an assortment of social media advertising campaigns, while A/B Testing different variations.
Follower Growth Campaign:
Gaining followers was the purpose of these ads. They were targeted specifically to those w/ potential interest in the services and content that the advisory firm shared to their page.
Brand Awareness / Website Traffic Campaign:
The purpose of this campaign was to spread awareness and, secondarily, drive traffic to the financial website. The ads were also targeted specifically to those who may have been interested in the services and content on the following social channels: Facebook / Instagram, Twitter, and LinkedIn.
Organic Post Boosting:
By putting a "boost" behind content that was organically performing well on Facebook, Twitter, and LinkedIn, we attempted to increase the reach and engagement of the posts, turning them into a "short-term" advertisement. We targeted these boosts specifically to those who may have been interested in the financial offerings, and the other content shared to the social pages.
Lead Generation Campaign:
This LinkedIn campaign promoted 'conversion-based' ads to the firm's target audience, asking social users to Subscribe to the Monthly Newsletter, gathering emails and target information.
In addition to these posts and campaigns, 360digitalz also systematically reviewed all comments and interaction on the company's social profiles, responding to all questions and continuing all conversation initiated by followers.
Organic Results
The regular posting schedule increased Facebook's total organic reach by about 100 people/month, or 150%. Facebook engagement also went up (about 40%), with posts producing approximately 2,000 new engagements/month organically.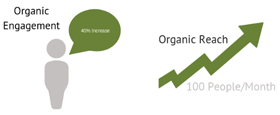 Implementing the content schedule on Twitter increased impressions by about 74.5K/month, (or 290%).
+74,500 Impressions
By providing varied value and utilizing popular industry hashtags on Instagram, the advisory firm saw a total growth of 1,663 new followers over the course of 10 months — averaging a 30% MoM increase. The company content also received an avg. 35 organic engagements/post on Instagram.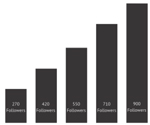 Paid Results
Follower Growth Campaigns: Also running for 10 months, these helped build a quality, loyal following and presence over time.
Facebook: +1,480 total new followers
Twitter: +510 total new followers
Brand Awareness Campaigns: These highly targeted ads produced excellent click-through rates and traffic to the advisory firm's website.
Facebook/Instagram:
10 months of activity produced a reach of 569,525 people and 41,074 clicks, ( a click-through rate of a whopping 7.21%!)
This Facebook campaign had a CTR 1.14% above the Facebook average, (2.24%)
Twitter:
10 months of activity produced 625,932 impressions and 77,775 total clicks, ( a click-through rate of a whopping 12.43%!)
This Twitter campaign had a CTR 11.53% above the Twitter average, (0.90%)
LinkedIn:
10 months of activity produced a reach of 612,536 people and 7,643 clicks, ( a click-through rate of a whopping 1.25%!)
This LinkedIn campaign had a CTR 1.10% above the LinkedIn average, (0.15%)
Boosted posts, or "mini" ads: By targeting these boosts similarly to the other advertisements — and choosing an audience most likely to engage — we were able to greatly increase post reach and engagement. Here just a few of our top-performing boosts:
Top Facebook/Instagram B2C Boost (11.82% above the average Facebook CTR):
Spend: $25
Reach: 3,023 users
Clicks: 425
Click-through rate: 14.06%
Cost Per Click: $0.06
Top Twitter B2C Boost (6.18% above the average Twitter CTR):
Spend: $25
Reach: 7,822 users
Clicks: 554
Click-through rate: 7.08%
Cost Per Click: $0.05
Top LinkedIn B2B Boost (0.48% above the average LinkedIn CTR):
Spend: $25
 
Reach: 5,726 users
 
Clicks: 36
 
Click-through rate: 0.63%
 
Cost Per Click: $0.69
Newsletter Sign-up Campaign on LinkedIn: Using custom targeting lists and re-targeting information, this B2B lead generation campaign received an above-average CTR (0.7%) and engagement rate (0.76%).
Activity: 4.5 Months; May-September 2018
Impressions: 58,321
Clicks: 409
Social Actions: 32
Engagement Rate: 0.76%
Value Leads (Subscribers): 26
Spend: $3,285.80
Conclusion
If you're a financial company hoping to 1) build a community for your clients, 2) target those who might be interested in using your products and services, and 3) share the story of your mission online, then social media marketing may very well be the solution.360digitalz's social media specialists can help you acquire new clients and better engage your target groups about your financial solutions. Contact us for more information today!